Raul Castro is the current President of Cuba and brother of the Cuban revolutionary leader Fidel Castro. Most of his life was spent under the shadow of his elder brother and he was always seen as the right hand of Fidel. Raul played a very important role in the Cuban Revolution as well as in formation of the government of Cuba, after the revolution was over. He helped his brother plan and execute the socialist revolution, which overthrew the dictator Batista, in the 1950s. He is most famous for his role in Cuban military. He has been counted amongst Cuba's top-ranking military officers since soon after the Revolution.
Childhood & Education
Raul Castro, born on 3rd June 1931, was one of the five children of a sugar farmer Angel Castro and his wife – Lina Ruz Gonzalez. Young Castro was sent to the same school as his elder brother, but unlike his brother, he was not very much interested in studies. He did his early studies from the Jesuit school Colegio Dolores, in Santiago de Cuba and later, he was sent to Jesuit school Colegio Belen, in Havana. While Raul was studying at the University of Havana, he developed an interest in politics. He became a member of the Juventud Socialista (Socialist Youth), an affiliate of the Moscow-oriented Partido Socialista Popular, Cuba's Communist Party. He also joined a student communist group and eventually, became a leader of these student groups, which took part in protests and demonstrations. Because of his rebellious nature, he had a history of discipline problems.
Moncada Assault & Imprisonment
From the very beginning, Raul Castro supported Fidel in his planning for revolution against Batista. Like many socialists, he was also disgusted by the dictatorship of Fulgencio Batista. He was only 22 years old when he actively participated in the first armed action of the rebels, on July 26, 1953. The team attacked the federal barracks at Moncada. Raul was one of the members of the team sent to occupy the Palace of Justice. Raul group managed to secure the palace, though they got late on account of their car getting lost. After the operation was finished, Raul and his team dropped their weapons and walked out onto the street in civilian clothes.
Raul and his team members failed to escape and were arrested. He and his elder brother were sentenced to 13 years imprisonment. He was sent to the Isle of Pines prison, along with his brother and other leaders who participated in Moncada assault. In the prison, they began plotting the '26th of July Movement', named after the date of the Moncada assault. Together, the group decided how to continue the revolution. In 1955, due to international pressure on President Batista, he had to release the men who were responsible for the Moncada assault. Raul and his brother stayed in prison for around 22 months. To save their life, they immediately went into exile, in Mexico.
Exile & Return to Cuba
During his time in exile, Raul met Ernesto "Ché" Guevara, an Argentine doctor and a committed communist. Soon they became friends. Castro then introduced his new friend to his brother – Fidel Castro – and their friendship proved to be very beneficial for their revolutionary plans against Batista. Raul took an active role in the '26th of July Movement'. He, along with Fidel, Guevara and Camilo Cienfuegos, was amongst the 82 people who returned to Cuba in November 1956 and started the revolution.
The army soon discovered the rebels and attacked their camp. After the attack, only around 20 out of 82 rebels were able to survive and moved their camp to the Sierra Maestra Mountains. The two brothers began collecting recruits and weapons for their mission. In 1958, Raul was sent to the north-coast of Oriente Province, at the post of Comandante, where he had a force of 65 men. While there, he imprisoned about 50 Americans, hoping to use them to keep U.S. from intervening on behalf of Batista. However, the hostages were released soon.
Triumph of the Revolution
Raul's forces remained active in the coming months and by October, the two brothers had the supports of around 2,000 supporters. They were now operating, unhindered, throughout Oriente province. In December 1958, Fidel sent Cienfuegos and Guevara as Comandante of most of the rebel army, in important cities. They took over Maffo and then headed to Santiago de Cuba, the capital of Oriente province. When Guevara won the Battle of Santa Clara, Batista realized he could not win and fled the country, on January 1, 1959. Raul and Fidal, along with other rebels, proudly came back to Havana. Raúl and Che started rooting out supporters of former dictator Batista, immediately after the revolution was over. Raul, who had already begun setting up an intelligence service, was then made in-charge of overseeing the summary execution of Batista-loyalists.
Post 1959
Raúl Castro became a member of the National Leadership of the Integrated Revolutionary PO Organizations, established in July 1961 ( dissolved on March 1962), and the United Party of the Socialist Revolution of Cuba, established on March 1962 (dissolved on October 1965). He participated as a member of the Central Committee of the Communist Party of Cuba and the Second Secretary of its Politburo. He was also appointed as the First Vice President of the Cuban Council of State, of the National Assembly of the Popular Power and of the Council of Ministers. Raul became the Minister of the Revolutionary Armed Forces in October 1959, when the Ministry was founded (and served till February 2008). In the early 1990s, Raul persuaded his elder brother – Fidel – to implement agricultural market reforms, which increased the food supply.
Assumption of Presidential Duties
On July 31, 2006 Personal secretary of Fidel Castro – Carlos Valenciaga -announced on a television that while Fidel recovered from intestinal surgery to repair gastrointestinal bleeding, Raúl would take over the duties of President of the Council of State of Cuba, First Secretary of the Communist Party and Commander-in-Chief of the Armed Forces. There are different views of different people about Raul's as a future political leader. Many see Raul as being more pragmatic than Fidel and there was some hope that he would loosen the restrictions which he has placed on Cuban citizens. He has done so, although not to the extent that was expected.
Cubans can now own cell phones and consumer electronics, but drastic fundamental changes are yet to be introduced. In view of many critics, Raul lacks the charisma and supernatural power of leadership that Fidel had. They feel that he will have difficulty maintaining political control, once he takes over. Some people think more positively on the issue and predict that he may be more open to economic reform than his brother. Raul has been criticized for the persecution of dissidents and homosexuals. Even his alcoholism problem raised doubts about his future leadership. During the transfer of duty period, Raul remained largely out of public view.
Raul has been seen in few public appearances till date. He was seen hosting a gathering of the leaders of the Non-Aligned nations in September 2006 and leading the national commemoration of the 50th anniversary of the Granma boat landing, which was also celebrated as Fidel's belated 80th birthday. On May 1, 2007, Raúl was seen on the May Day celebrations in Havana. According to Granma, a crowd of over one million people, including delegations from over 225 organizations and 52 countries, participated in this celebration.
President of Cuba
The National Assembly elected Raul Castro as the President of Cuba on February 24, 2008. Shortly afterward, he delivered his inaugural address. During his presidency, Raul's government has announced several economic reforms. The government has removed restrictions against the purchase of the products that were forbidden under Fidel's term, like DVD-players, computers, rice cookers and microwaves.It has also turned over unused state-owned land to private farmers and cooperatives, to increase food production. To reward hard-working employees with higher wages, the salary structure of all state-run companies was overhauled in 2008. The government has also removed restrictions against the use of cell phones and is investigating easing the travel restrictions on Cubans. 
Personal Life
Raul Castro is the youngest of the three Castro brothers. He also has four sisters – Angela, Juanita, Enma, and Agustina, and two half siblings – Lidia and Pedro Emilio. Immediately after the triumph of Cuban revolution, Raul married his long time sweetheart and fellow revolutionary Vilma Espín. In 1960, Vilma became the President of the Cuban Federation of Women. Raul's wife, Espin served as Cuba's first lady for decades because Cuban leader Fidel Castro is divorced. Raul had four children with Vilma – three daughters, Déborah, Mariela and Nilsa, and one son, Alejandro Castro Espin. Mariela is currently heading the Cuban National Center for Sex Education. One of his grandchildren is the chief of his security detail. One of Raul's sons-in-law, Luis Alberto Rodríguez, a high-ranking military officer, is in charge of the armed forces.
A daughter and some relatives of Raul are believed to reside in Italy. Castro lost his wife Vilma on June 18, 2007. Raul's personal life was very normal. Although there were always been rumors about his divorce with his wife, but none of them were conformed and they were usually seen together in public. In an interview, Raul said that he and his wife argue with each other sometimes, like any married couple does, but this doesn't mean that they don't love each other or are separated.
Role in Government & Military
Raul Castro has always been seen as Fidel's right hand. When Fidel transformed the revolution into government, he came to rely more on Raul. After the revolution, Raul was appointed as head of the Communist Party, Minister of Defense and Vice President of the Council of State, apart from holding many other important positions. However, Raul is most famous and most identified for his role in the military. He has been Cuba's top-ranking military officer since soon after the Revolution. He was appointed first Deputy Prime Minister in 1972. He is considered the world's longest serving defense minister. At present, Raul is commanding more than 45,000 soldiers and has expanded the military's reach into many aspects of the Cuban economy. Succeeding his elder brother Fidel Castro, he is now serving as the President of Cuba.
RAUL CASTRO TIMELINE
1931 -:
Raul Castro was born.
1953 -:
Became a member of '26th of July Movement'
1956 -:
Returned to Cuba, with Fidel & others, and started the revolution
1958 -:
Sent to the north-coast of Oriente Province, at the post of Comandante
1959 -:
Became the Minister of the Revolutionary Armed Forces
1972 -:
Became the first Deputy Prime Minister of Cuba.
1976 -:
Became the first Vice-president of Cuba.
1990s -:
Persuaded Fidel to implement agricultural market reforms
2006 -:
Assumed the duties of President of the Council of State of Cuba, Hosted a gathering of leaders of the Non-Aligned nations
2007 -:
Presided over the May Day celebrations in Havana, Lost his wife
2008 -:
Elected as the President of Cuba
EN ESPAÑOL

(Birán, 1931) Revolucionario, militar y político cubano. Raúl Castro Ruz nació en la plantación de caña de su padre, en la aldea de Birán, provincia de Oriente, el 3 de junio de 1931, el quinto de los siete hijos del matrimonio formado por Ángel Castro Argiz y Lina Ruz González, de origen gallego.
Estudió en los colegios de los jesuitas, primero en Santiago de Cuba y luego en La Habana, en cuya universidad empezó una diplomatura en ciencias sociales que no terminó debido a sus actividades políticas. Su compromiso ideológico marxista es anterior al de su hermano Fidel. Afiliado a la Juventud Socialista, organización del Partido Socialista Popular (PSP, de orientación comunista), en febrero de 1953 participó, en Viena, en el Congreso Mundial de la Juventud y visitó varias capitales del bloque soviético.
La guerra de guerrillas
Al regresar a La Habana, se unió al movimiento dirigido por su hermano Fidel dentro del Partido Ortodoxo (reformista), que luchaba contra la dictadura de Fulgencio Batista, y participó en el fracasado ataque al cuartel de Moncada, el 26 de julio de 1953, considerado como la gesta inicial de la Revolución. Los dos hermanos fueron capturados por la policía, pero la intercesión del arzobispo de La Habana, monseñor Enrique Pérez Serantes, les libró de las represalias. Raúl, condenado por sedición a trece años de cárcel, fue liberado en mayo de 1955 gracias a una amnistía general.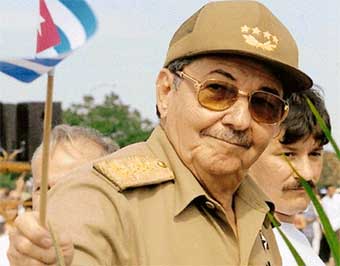 Raúl Castr0Tras su liberación, se trasladó a México, donde ayudó a su hermano a captar adeptos y a organizar el movimiento insurreccional.
Allí restableció sus relaciones con el agente soviético Nikolai Leonov, quien ejerció gran influencia sobre la incipiente guerrilla. A fines de 1956, Fidel, Raúl y ochenta camaradas zarparon de México en el yate Granma y desembarcaron en la provincia de Oriente. La mayoría de los insurgentes resultaron muertos o fueron capturados por las tropas de Batista, pero los hermanos Castro y doce compañeros lograron huir y refugiarse en la Sierra Maestra para comenzar la lucha que les conduciría a la toma del poder.
Durante la guerra de guerrillas, que apenas se prolongó un año (1957-1958), y con el rango de mayor, Raúl logró abrir con éxito el segundo frente en la Sierra Cristal, al norte de la provincia de Oriente, y estableció su cuartel general en Mayarí Arriba, una maniobra que resultó decisiva para la victoria.
En el verano de 1958, con el secuestro de cuarenta y siete estadounidenses, a los que retuvo en su cuartel general durante varios días para intentar presionar a Washington, y en aparente discrepancia con el comandante en jefe, empezó a fraguarse la presunción de que era el dirigente más hostil a Estados Unidos. Mientras que Fidel se mostraba conciliador con la presencia estadounidense en la base de Guantánamo, Raúl la vituperó como «una provocación permanente y un cáncer que debe ser extirpado».
El triunfo de la Revolución
Triunfante la insurrección, tras la huida de Batista y la entrada de los «barbudos» en La Habana, en enero de 1959, el ejército rebelde se convirtió en las FAR, de las que fue nombrado jefe con categoría de ministro el mismo día de su creación, el 16 de octubre de 1959, y en cuya reorganización siguió el modelo soviético, según los consejos de Leonov y luego de una visita a la Unión Soviética en el verano de 1960. El Ministerio de las Fuerzas Armadas (Minfar) sustituyó al Ministerio de Defensa. Sus adversarios le acusan de haber dirigido la ejecución sumaria de unos cien oficiales y soldados del ejército de Batista, enterrados en una fosa común cerca de Santiago de Cuba.
Su reputación como jefe militar entró en la leyenda del régimen después de que asumiera el mando directo de las fuerzas que derrotaron a los exiliados cubanos en Bahía de Cochinos, en abril de 1961. Fue nombrado viceprimer ministro en 1962 y presidió la delegación cubana en las negociaciones con el Kremlin que desembocaron en el despliegue de misiles soviéticos en la isla, preludio de la más grave crisis soviético-estadounidense durante la guerra fría, en octubre del mismo año.
En el primer congreso del Partido Comunista Cubano (PCC), el 3 de octubre de 1965, fue elegido miembro del buró político, máximo organismo dirigente, y segundo secretario del comité central, cargos que le otorgaron, tras la muerte de Ernesto Guevara en 1967, el segundo puesto en el escalafón del régimen y para los que viene siendo reelegido sin interrupción, la última vez en el V Congreso (octubre de 1997).
En 1969 asistió a un curso impartido por especialistas soviéticos, que siempre lo consideraron un aliado de confianza y un competente administrador. En varias ocasiones, durante los años setenta y ochenta, visitó la Unión Soviética y fue invitado a observar las maniobras del Pacto de Varsovia.
Segundo de Fidel
Al reorganizarse toda la estructura estatal con organismos colectivos, en virtud de lo dispuesto en la Constitución plebiscitada y promulgada el 24 de febrero de 1976, fue elegido por la Asamblea Nacional primer vicepresidente del Consejo de Estado, segunda magistratura de la República, el 2 de diciembre de 1976, y ocupó igualmente la primera vicepresidencia del consejo de ministros. Fue reelegido para esos cargos en febrero de 1998 para un mandato de cinco años.
Según las previsiones constitucionales, el primer vicepresidente del Consejo de Estado asumirá la presidencia en caso de ausencia, enfermedad o vacante. La Asamblea Nacional del Poder Popular, órgano de soberanía, ratificará la sucesión provisional o designará a otra persona.
Su preeminencia en la jerarquía revolucionaria quedó reforzada por su ascenso al generalato y el exhaustivo control de los militares sobre los servicios secretos del Ministerio de Interior (Minint), dedicados en un primer momento a la liquidación de los presuntos contrarrevolucionarios y después a la represión de cualquier forma de disidencia.
Saliendo al paso de los rumores sobre su salud y el futuro del régimen, Fidel Castro señaló explícitamente a su hermano Raúl como sucesor, en unas declaraciones el 29 de junio de 2001: «Después de mí, es el que tiene más experiencia, más conocimiento, más autoridad, aunque quizá no se le conozca bien». General de cuatro estrellas (cuerpo de ejército), controla los Ministerios de las Fuerzas Armadas y de Interior, los dos pilares esenciales del régimen.
Está casado desde enero de 1959 con Vilma Espín Guillois, de una familia de la alta burguesía, a la que conoció en febrero de 1957 durante la guerrilla en la Sierra Maestra, actual presidenta de la Federación de Mujeres Cubanas (FMC), miembro del comité central del PC y del Consejo de Estado. Perteneció al buró político del PCC hasta 1991. La esposa de Raúl Castro, en buena sintonía con Fidel, es la mujer que ha llegado más alto en el escalafón del régimen, y en muchas ocasiones protocolarias actuó como primera dama. El matrimonio tiene un hijo y tres hijas